Minister Bathabile Dlamini to comply with ConCourt orders
The court has taken an unsympathetic view of Sassa and Dlamini's conduct over the social grant payment crisis.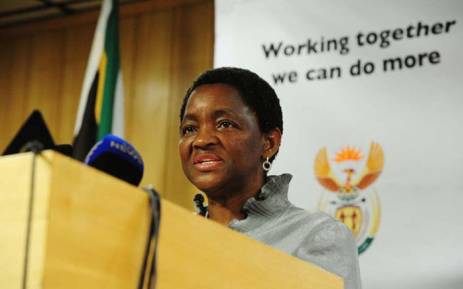 JOHANNESBURG – Social Development Minister Bathabile Dlamini says she will comply with the Constitutional Court's orders, saying she apologises for the stress she caused to millions of social grant beneficiaries.
The court has extended the contract between Cash Paymaster Services (CPS) and the South African Social Security Agency (Sassa) for one year as the current contract expires at the end of March and adequate plans were not put in place to ensure a new distributor could take over.
The Constitutional Court has delivered stringent orders for both Sassa and the minister, saying independent experts will also monitor their progress to ensure grants are distributed in the future.
On Friday the court extended the CPS contract for 12 months.
The 17 million social grant beneficiaries are completely dependent on the money they receive from Sassa and now they can breathe a sigh of relief.
The court has taken an unsympathetic view of Sassa and Dlamini's conduct over the social grant payment crisis.
While Dlamini has apologised unreservedly to the beneficiaries, the court has ordered her to explain her conduct by the end of this month.
Justice Johan Froneman explained: "The minister is called upon to show cause on affidavit why she should not be joint in her personal capacity and she should not pay costs of the application from her own pocket."
Sassa and CPS have been ordered to report back to the court every three months on the progress made on finding a new company to distribute social grants.
SOCIAL GRANTS BENEFICIARIES RELIEVED
Social grant beneficiaries are relieved knowing they will be paid on 1 April, with some acknowledging the consequences would have been devastating had the Constitutional Court not stepped in.
NGO Black Sash brought the application to the highest court in the land because the Sassa and Dlamini failed to ensure plans were in place for continued payouts next month.
One of the women who were at court on Friday for judgment, say this matter has caused them an enormous amount of stress.
"My concern was the stress level that most members of the community suffered. For instance, my son depends on the R360 for his school transport."
Another beneficiary added: "They are going to monitor it after every three months, so this is the best solution."
Although the current CPS contract was declared invalid, the court has suspended its invalidity for a year or until another entity can take over the payment process.
Minister Dlamini's conduct has been questioned by the court and she'll have to explain what went wrong by the end of March.
(Edited by Leeto M Khoza)