SA films hitting Box Office records
Local movies 'Vir Altyd' and 'Happiness is a Four-Letter Word' are raking in millions of rands.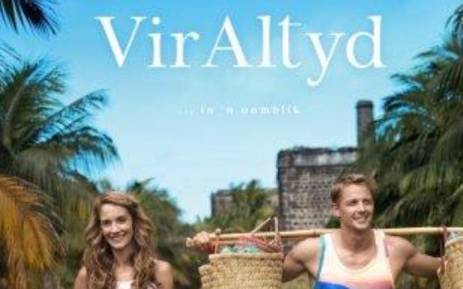 JOHANNESBURG - The producers of the romantic adventure film Vir Altyd say the movie has set a new record at the South African Box Office, earning R13.4 million after only a month on circuit.
This exceeds the number one spot in earnings at the local Box Office for Afrikaans films.
Ster-Kinekor Entertainment, the distributor of Vir Altyd have confirmed this in statement: "We confirm that Vir Altyd now has the highest box-office income for an Afrikaans movie. It has surpassed the Box-Office earnings of Liefling and Pad na jou Hart and stands on R13.4 million. We are overjoyed with the success. We congratulate the producers and everyone involved on this achievement. The film is still showing countrywide."
Ivan Botha who both acts in and co-produced the film says he and his team are overwhelmed by the response.
"We are completely grateful. I think everybody sets out to make films that touch people and hopefully does reach a certain success but the fact that people still came out in their thousands to come and support our film during times that are really tough in the world and the country economically… you can imagine how much that means to us."
The movie follows the childhood friendship of Hugo (Ivan Botha) and Nina (Donnalee Roberts) who are suddenly separated by a tragic incident only to meet again 10 years later.
Watch: Vir Altyd Trailer
Botha says the Box Office record is also a significant milestone for the film industry.
"I think universal stories are our number one priority as film makers, Happiness is Four Letter Word is also doing well at the local box office. I think the hunger for good local content is obvious, people want to support local as long as the quality and the standard is as good as it should be internationally."
He has encouraged the public to continue to support home grown productions.
"We have really grown as an industry, both Afrikaans and English, indigenous languages. I think we have caught up. Go out and support Happiness is a Four-Letter Word; Vir Altyd is out there, there is another Afrikaans film at the moment. I think this is a wonderful period in our film industry."
The romance drama Happiness is a Four-Letter Word has sprinted past its R2 million earnings and now sits at over R8 million.
It has gained the favour of local audiences since its release last month and now holds fourth position at the South African Box Office Top 10, drawing a larger audience than Hollywood and other international Indie titles.