#AskBlade: Minister's call for Twitter Q&A backfires
Twitter users have used the social media platform to mock the Minister.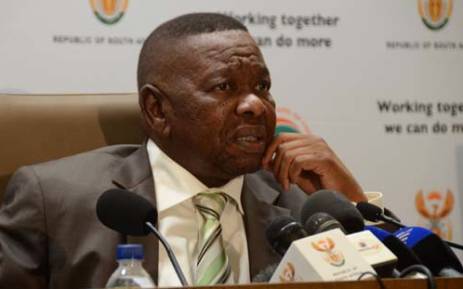 JOHANNESBURG - An attempt by the Higher Education Department to engage social media users in a Q&A session has spiralled out of control with some serious, but mostly scornful questions posed at Minister Blade Nzimande.
Yesterday, Nzimande invited people to ask him questions under the hashtag #AskBlade.
I invite the public to #AskBlade questions about #HigherEducation 26 Feb 7am-27 Feb 7am. Will tweet answers Monday pic.twitter.com/0qyYXdnEOh

— Bonginkosi Nzimande (@DrBladeNzimande) February 25, 2016
Some users have instead bombarded his Twitter feed with unrelated questions.
#AskBlade .. Red or White wine

— Revolutionary (@Common_man18) February 26, 2016
Did Johnny Walker ever reached his destination? #AskBlade

— KHULE_MATH (@Khule_Math) February 26, 2016
#ASKBLADE, did the boy on the salf container finaly catch that chicken and braai it??? pic.twitter.com/cY20FpGeIR

— Mike Ndlovu® (@NdlovuMike1) February 26, 2016
Why Dstv show us one Movie the whole month??? #askblade

— SIMON wa SEBOYA (@sibacooo) February 26, 2016
Is Lindiwe Sisulu actually a yellow-bone or did she bleach with memeza?#AskBlade

— Mmeshi Kgaphola (@KgapholaMmeshi) February 26, 2016
What type of BLADE are you? GILLETTE or TOPAZI? because you can even cut simple thing like student fees? #AskBlade pic.twitter.com/2KyfzTlXKl
Which one is the REAL Blade? #AskBlade pic.twitter.com/vrSjxWHuWU

— Mpinga (@SipheMacanda) February 26, 2016
Are you trying to get to the bottom of the unrest in universities? #AskBlade pic.twitter.com/gSyohp1VFu

— AbortedNews (@AbortedNews) February 26, 2016
The minister responded to say that he will only answer the more 'genuine' questions.
As a Minister I am looking forward to engage with you and answering genuine questions as some have started but no insults.

— Bonginkosi Nzimande (@DrBladeNzimande) February 26, 2016