Mission control, Starman has returned home
David Bowie died on Sunday from cancer he'd been battling with for 18-months.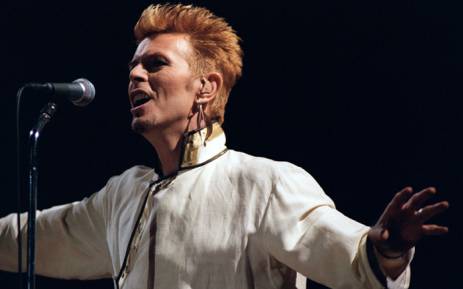 JOHANNESBURG - The late musical legend David Bowie has been described as an artist who could reinvent time and again.
Bowie passed away on Sunday, following an 18-month battle with cancer.
A pioneering chameleon of performance imagery, Bowie straddled the worlds of hedonistic rock, fashion, art and drama for five decades, pushing the boundaries of music and his own sanity to produce some of the most innovative songs of his generation.
He released his 28th studio album, Blackstar on Friday, which coincided with his 69th birthday.
Harper's Bazaar editor in chief, Justine Picadie said Bowie was a trend setter.
"In my mind those moon landings and Space Oddity at the same time sort of transformed the way I thought about out of space, as well as a man that lived so extraordinary. He just kept inventing himself but he'll always looked like himself."
Belgian stage director Ivo van Hove, who directed the current off-Broadway experimental play Lazarus, which Bowie co-created and for which he provided much of the music, said the singer had been diagnosed with liver cancer some 15 months ago.
"He told me more than a year and three months ago just after he had heard himself ... he said it was liver cancer," van Hove told Dutch public radio broadcaster NOS in an interview on Monday.
"I saw a man who didn't want to die, he really didn't want to die. ... He was in a battle for his life. Sometimes he looked at me and I saw a man who was suffering through and through because he knew the clock was ticking," the director told Dutch TV in a separate interview.
TRIBUTES POUR IN
At the same time, British Prime Minister David Cameron described the death of the rock icon and actor as a 'huge loss'.
Cameron said he grew up watching and listening to the pop genius, and he's called him a 'master of reinvention'.
Listen: Guest: Sean Brokensha, The Music Guru
Fans have continued to pay tribute to the singer at a memorial site in his birthplace of Brixton and on Twitter.
Shocked and sad to hear about the passing of David Bowie. He was the definition of cool. A true pioneer, a fearless trailblazer. #RIP
"Sometimes you will never know the true value of a moment until it becomes a memory." - David Bowie's wife, Iman
The @Snapchat #DavidBowie "story" from around the world today is the best use I've ever seen of that feature! So compelling!!
"The world is a worse place without David Bowie in it"--everybody
"And we can prove it"--Rupert Murdoch and Jerry Hall
One of a kind. Was honored to have spent time in his company, Rest in peace #DavidBowie K🚀 pic.twitter.com/PBnBs2ajGW
#DavidBowie illustrations by Helen Green ( @Helengreeen) pic.twitter.com/R2hn4Xs8Gi
A homage to #DavidBowie, @WWEStardust wears the familiar lightning bolt before his #RAW match vs. @TitusONeilWWE. pic.twitter.com/79tjrAxnJv
Perfect.
#DavidBowie pic.twitter.com/b2V8lA6oLF
The final photographs; taken on January 8, 2016. #DavidBowie pic.twitter.com/xJw9BLVxcu